Being the owner of your very own Bridal and Wedding business is a very rewarding job. Helping woman choose and fit their dream wedding dress and getting paid for it!

Playing dress ups on a daily basis and offering the latest accessories for the big day are some aspects of this business.

Stocking your boutique with the latest designer gowns and trends will keep your clients spreading the word and in return, generate new business. This is a multi billion dollar industry which seems to continue to boom year after year.

If owning a business in this niche has been a dream of yours, then make it a reality and make contact with our listings below.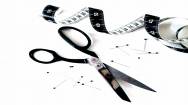 This dress making alterations shop is located inside a very busy shopping centre. The business has been in operation for 10 years with the same owner with a new lease signed in 2013 expiring in 2018. This is a highly successful business with the lease renewal being offered at the end of each lease period as the centre management are very happy with its performance & services. There is no similar competition in the local area. Retail outlets within the centre use the alterations services offered on a regular basis. This is the perfect small business with the perfect loation and easily managed with good profits and regular & constant clientele Sale being offered as the owner wishes to retire.
Region Carlingford Court, New South Wales Price $NEG