Website businesses are fast becoming the first choice for home business start ups and working mums. Giving you the ability to work from home and around your own hours, they are the perfect solution for people who are looking to get out of the hustle and bustle of daily traffic.

There are many advantages being the owner of your on website business which include planning your own daily hours, no more driving to work and being your own boss just to name a few.

If you have been interested in getting an online business, then please visit our website for sale listings below and connect with the advertisers directly.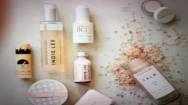 An Ecommerce Business Selling Natural & Organic Beauty Products / Make- Up / Skin Care / Men / Baby & Health Products. A fully professional online functional website. Website & the Business Logo was designed by a Boutique Graphic Designer. The website was designed and built with every tool needed to manage sales and inventory. User friendly website for customers to shop. 70 Plus Products – Australian & International & Renowned Brands This is a new established business and has a great potential to grow. Selling products around Australia, New Zealand, Asia and Canada. Marketing via Instragram / Facebook / Twitter / Pintrest. Over 3000 plus followers on Instragram. Stock kept on site.
Region All States Price Undisclosed