The real estate market consists of buying, selling or renting real property. This is an industry that is always in demand as someone is always selling or buying a property, not to mention the rental market boom!

In Sydney alone it is very difficult to secure a property and waiting lists are extremely long. People need a roof over their heads, right?

If you love meeting new people on a daily basis and have been thinking about buying your very own Real estate business, then please view our listings below and connect directly with the advertiser.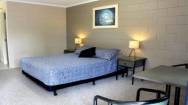 The Sunbird Motel is successful 3.5 AAA star rated motel that was established in 1975 and has been operated by current vendors since 2003. The sale is inclusive of the following 1. The motel which takes up 10,250m² block and is set on dry tropical bushland, on the side of a hill, overlooking the Nome Valley.2. A two storey masonry and timber residence set on 9,655m² block. The block also contains town & bore water, horse stable, shed, truck shed, tool shed. The residence has a 3m deep diving undercover swimming pool and entertainment area. The residence is currently rented out.3. A 6.5 hectare prime development site with significant development and infrastructure already completed. The block is located within the new Elliot Springs – Alligator Creek – State Development Zone triangle. There is direct access to the Bruce Highway. The total property measures 6.5 hectares. Motel The motel consists of 10 self-contained units. There is a range of sleeping arrangements to cater for singles, couples and families.Guests have the use of an outdoor bush kitchen with BBQ and laundry & ironing facilities. There is a two bedroom attached Manager's residence with lounge and utility rooms.The motel has a fully licensed commercial kitchen which is open 7 days a week. Breakfast and dinner can be delivered to guests rooms or enjoyed in the outdoors with stunning sunsets against the backdrop of the valley. LocationThe property is strategically located just 15km from Townsville CBD, on the Bruce Highway which is a major highway that links Brisbane to Cairns. The motel serves a large catchment area and experiences passing traffic flow of up to 40,000 vehicles on a daily basis of which a high percentage is local traffic. ClienteleThe motel is popular with rural and tourism travellers visiting Townsville or travellers needing a place to rest whilst travelling to destinations either further north or south. There are numerous events throughout the year that the motel gets bookings for which include all North Queensland Cowboys NRL home games, V8 Supercars Series, Music & Cultural events, and sporting events. Weekly rentals are available for contract workers. StaffThe business is currently operated by the two owners (1 x FT & 1 x casual) plus the help of casual staff if/when required. Trading HoursThe business operates 7 days per week however the office is manned Monday to Friday. This well-structured and easy to run business provides an excellent opportunity to buy a sustainable business, residence and land development opportunity. The business is suitable for a family or extended family accommodation and operation. It has consistent trading figures over the years and full financials are available. Freehold Sale $1,900,000 NegotiableABM ID #6204
Region Townsville, Queensland
Price
$
1,900,000