Pet shops, otherwise known as pet stores, are obviously a retail outlet specializing in the selling of pets animals and pet products and accessories. Their inventory of pets may include birds, dogs, cats, mice, lizards, snakes, rabbits and more. And of course, pet food, treats, birdcages and aquariums, along with various accessories, are also available.

With the Pet industry exploding in growth over the past 5 years, so has the demand for pet products, supplies and accessories. The average household with pets is spending $1500 per year on their pets, over $2 billion per year in Australia! That sounds like a market worth looking at, doesn't it?

If you find such an opportunity attractive, you should search through our listings below and connect directly with the owners.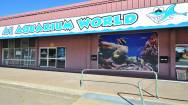 Business Name: A1 Aquarium World Location: Queensland – Cranbrook,Townsville, 4814. Category: Pets Retail ……………………………………… FINANCIAL SUMMARY Asking Price: $350,000 ……………………………………… GENERAL INFORMATION Managed: YES Profitable: YES Ready and Attractive: YES ……………………………………… As one of the longest established retail aquariums in Townsville and the largest retail aquarium north of Brisbane, A1 Aquarium World is in a class of its own. The aquarium specialises in aquatic pets and goods, this means that A1 Aquarium World has the largest range of fish species in Townsville. The business boasts over 3000 units of freshwater and marine fish, plus aquatic plants. This draws customers who range from the child looking for a pet goldfish to the enthusiast after a rare aquatic species. The expert advice and care provided by the A1 Aquarium World team has also built up a reputation for quality service and products. The business also provides a wide range of aquatic-related goods and spare parts, the wide range available has made them the go-to specialist. Due to limited competition and expert management the business has grown significantly over the last 14 years. Formally known as Rossvale Pet and Aquarium the business has operated in the Rossvale Shopping Centre since 1985. After 14 years at the helm the owner is ready for a change of direction; A1 Aquarium World is now open to a buyer interested in making a generous profit year after year. Specialist in aquarium pets and goods Limited competition Expert advice and service Known for wide range of spare parts Huge range of aquatic species Aquarium goods- tanks, plants, food etc. Both freshwater and marine fish Prime location Attractive and organised interior Eye-catching exterior A1 Aquarium World is also ideally located in Brampton Avenue Cranbrook; 3 minutes away from Townsville's busiest intersection, at Stockland / Cetro Shopping Centres ( Nathan and Ross River roads). Take this opportunity to own a continually growing business that is this well-established and impressively unique.
Region Townsville, Queensland
Price
$
350,000