With Australia's ever evolving infrastructure and housing developments, the excavation and earthworks business continues to grow at a rapid rate.
Excavation may involve land clearing, removal of excess soil, land leveling or simple ditch work. But it can also be much more complex than simply removing dirt and stone to leave a hole. There are many aspects that require specialized skills and a great deal of care. Any contractor or homeowner that has watched a skilled excavator work his magic, artfully forming a hole for a foundation or in-ground tank, can attest to this. Additionally, these operators often have to excavate in close proximity to buried electrical, telephone or other services.
Some level of excavation will normally be a prerequisite to any construction project. And because it often requires specialized heavy equipment that only a professional excavator is likely to have, this has become a niche with a great deal of available work.

If this sounds like an industry you'd enjoy working in, you should browse through our listing of excavation businesses for sale. You can simply click through to make direct contact with the sellers of any that look interesting to you.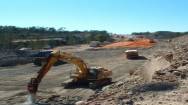 Established by the vendor in 1971, this successful earthmoving company has built a strong reputation for providing a superior service with a strong focus on safety. The business continues to deliver environmentally sensitive projects to the Private sector, Local and State Governments and National Parks. They also pride themselves on servicing the agricultural industry. They specialise in all aspects of earthworks such as road construction for State and Local Governments, dam construction and desilting of old dams, contour banks to sustain water management on farms, prepare house sites for new buildings and fence lines on properties. They stock pile bulk materials, gravel and other products associated with their projects. Their precision work minimises soil disturbance and damage to underground services such as power, telecommunications including optic fibre, water and gas. The sale includes a fleet of excavation trucks, tippers, FE loader, Caterpillar Dozer D8, water carts and machinery. The business is situated on a 100 acre property, 7km from the township with major highway frontage. The property contains a large 9m x 8m workshop and 15m x 11m service shed for storage and repair of their fleet of machinery. The workshop is tidy and well-equipped with basic and specialist tools. The property also has a spacious four bedroom Homestead with two living lounge rooms, kitchen, laundry, two bathrooms and an ensuite. The business is currently operated by the vendor with six full time and nine casual staff. All staff are knowledgeable, experienced and hold appropriate accreditations with regards to services. The vendor is of the opinion that this solid business would best suit an owner operator or a husband and wife team with strong managerial skills. It is a fabulous business to have the whole family involved but can also be run under management if wanting. Freehold Sale Price $4,000,000+SAVABM ID #6233
Region New South Wales
Price
$
4,000,000+SAV