Have you ever wanted to be a baker? Have you got a flare for baking goods? Then why not invest in an already established bakery business.

Bakeries as a preferred profession, are one of the fastest growing industries in today's economy. With such a huge demand for all fresh bakery goods including bread, cakes, slices, donuts, bread sticks, meat pies, sausage rolls, croissants and many other items, business is always good no matter what the location.

People will become loyal customers and drive past multiple grocery stores to buy your product!

Search our list of bakery businesses for sale below and make contact directly with the seller.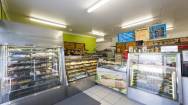 Hogues Hot Bread is a successful Bakery/Café located in Iluka, NSW. Iluka is a charming small town nestled at the mouth of the Clarence River, on the North Coast of New South Wales. This flourishing Bakery/Café has an excellent reputation for producing high-quality products and providing excellent customer service. The Bakery is well-known for their diverse range of products including bread, rolls, pastries, pies, cakes, slices and specialty cakes including birthday and special occasions. They are a popular breakfast and lunch spot for both locals and tourists alike, offering barista style coffee, fresh sandwiches and rolls, cold drinks, and milkshakes. On average the cafe sells 10kg of Botero coffee per week which doubles in peak holiday seasons. All products are baked on site with quality ingredients. Customers can dine in the outdoor alfresco area or takeaway. The kitchen is of commercial standard fitted with premium and well-maintained machinery, cool rooms, and freezers. All equipment is owned outright. The business is currently operated by the 2 vendors with 3 senior and 3 junior staff. Ideally situated in the main street in close proximity to all essential services. Weekly average turnover $8,700 Detailed plant & equipment list Negotiable lease available The sale of Hogues Hot Bread is a great opportunity to purchase a solid, profitable small business in an ideal location. The business has plenty of scope to expand and specialise in bakery lines or divert into other fields of service and management. Leasehold Sale Price $140,000+SAV ABM ID #6260
Region Iluka, New South Wales
Price
$
140,000+SAV