Vending Machine businesses in Australia usually cater the following products: beverages (soft drinks and water), snacks and toys to the consumer automatically.

Skill testers are another form of vending machine which involves the customer inserting money at which point the user has to perform certain challenges.

If a vending machine is located in a high foot traffic area, the returns for this machine can be thousands of dollars per week. All that is required by the owner is to simply turn up, empty the till and re-stock the vending machine.

If this sounds like an industry that would suit your lifestyle, then please make contact with our listings below.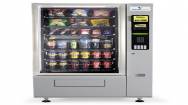 This vending machine business for sale has been well established for 6 years and provides a large variety of vending machines to offices and work places throughout Melbourne. The business has an extensive variety of modern, attractive, refrigerated vending machines with a range of products from healthy options to the traditional chips, lollies and soft drinks. Also has hot beverage/coffee vending machines. The business has 17 vending machines, all less than 6 years old. Easy to operate business with flexible working hours. Vendor only needs to fill machines, collect money from the machines and maintain the machines. No need to worry about a lease or paying rent. Business can be operated from home or by hiring a simple storage unit to store stock. Turning over $2,500 per week, with no high overhead costs - excellent profit. Perfect business for someone looking for flexible work hours or a passive income. For more information and discussion about this business opportunity please contact Chris Panagiotidis or Elle Likopoulos on 03 9566 7300 or via email at elle@absolutebb.com.au
Region Melbourne, Victoria
Price
$
130,000