Older Australians make up a large percentage of our population, and with improving health conditions thanks to modern medicines and technologies, the death rate is falling and people are living much longer.

As a result, there is a growing demand for retirement villages and services in general.

This also includes residential ages care services and facilities (low level and high level care).

Please scroll through some of our available retirement service business opportunities and connect with the business owners for further discussions.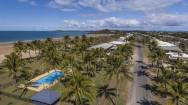 Sarina Beach Motel is a popular accommodation facility with 20 motel rooms with kitchenette facilities all of which have been newly renovated providing guests with modern appliances and a comfortable room to enjoy their stay. Facilities include a pool, tennis court, BBQ facilities and a first class restaurant which is not only for guests but the general public 7 nights per week. The motel is beautifully located directly on the beachfront of Sarina in the Mackay Region of Queensland. With the motel being situated on the white sandy beach, guests can enjoy the annual migration of humpback whales, beautiful dolphins and sea turtles from the shore. The vendors are of the opinion that the business can be operated by a husband and wife team with the assistance of staff or can be operated under management as there is sufficient profit available to do so. There is a 5 bedroom renovated residence onsite which is definitely suitable for the owners or on-site manager. Freehold Sale Price $5,200,000 WIWO ABM ID #6018
Region Sarina Beach, Queensland
Price
$
5,200,000