Tough economic times, more single mums and a desire to fulfill professional goals is driving more and more women to full-time employment. With so many mums returning to the workforce, the demand for childcare is steadily increasing.

Add to that the fact that some childcare centres have waiting lists exceeding two years, and it's obvious that this is a growth niche that presents tremendous opportunity.

If you love working with children or are currently working in the childcare industry, why not look at investing in your own business? The capital investment is considerably lower than for many other businesses and the rewards are many.

Review our listings for childcare centre opportunities and if you see one that interests you, then get in direct contact with the seller.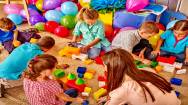 Early Learning Centre Business for Sale located in Cranbourne North. This childcare centre has a really good location, set back from the main road, but very easily accessible from the main road. Making it really convenient for parents to drop off or pick up to and from work. The area is full of young families, who are in need of child care facilities. This centre has gained a reputation for it's caring and personalised service with family values. Catering for 0 to 5 years old, the centre is licensed for 47 children, giving it a homely feel. The centre has: • 4 rooms • lots of storage • 3 outdoor areas • 3 children toilet zones and 1 toilet for adults (staff) • security cameras • 6 private car spots • 2 front office spaces at the entrance • Excellent website The centre has been recently fully renovated and it is Government Funded and Accredited by ACECQA. Turnovers over approx. $500,000 per year with rent of $9309 per month incl. GST. A long secure lease of 5x5x5x5x5x5 years commenced August 2019 is in place. There is a full time manager who is happy to stay on plus 1 Full time, 4 part time and 1 casual educators. Staff are qualified Early Childhood Educators and/or kindergarten teachers. The centre operates Monday to Friday 6:30am to 6:30pm Excellent investment opportunity as this early learning centre has a manager and staff who are willing to stay on, and the demand for childcare is increasing. For more information contact Elle Likopoulos on 03 9566 7300. Ref: B13873
Region Cranbourne North, Victoria
Price
$
750,000