The catering industry, which provides food services for all types of events and functions, is one of the most profitable and sort after business industries in Australia and around the world.

Having previous knowledge and education in food preparation or events management is obviously an advantage if you are considering buying a business within this sector, but not essential.

The catering & events industry continues to thrive both in the corporate and private sector.

The private sector usually caters to personal and family functions such as weddings, birthdays, anniversaries and funerals, while corporate functions are events hosted businesses.

Advertise your catering & events business for sale, don't pay commissions and sell your business fast.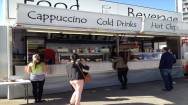 Auto Caffé is a Melbourne based mobile food catering business established over 20 years – trading at major events, festivals and locations in and around Melbourne - including Royal Melbourne Show, major stadiums and Melbourne Grand Prix. The fleet consists of seven custom built vans and two refrigerated service trucks (Isuzu 525 & Isuzu 300), offering coffee & donuts, through to full service fast food. All vans have current health registration within the City of Melbourne. Auto Caffé has made a substantial investment in developing its name in the market place, building a first-class fleet of mobile vans and establishing a loyal client base. A storage yard and warehouse equipped with commercial freezer is available for lease in Williamstown. The space accommodates the vans and equipment necessary to ensure smooth logistic support. Auto Caffé has a number of key strengths that make it an appealing investment opportunity for a prospective buyer. It is a cash-based business with low working capital requirements. It's highly scalable according to demand with low fixed overheads and fast stock turnaround. Key investment features are as follows: * Brand name with strong associated goodwill built over 20 years * Cash driven business with strong profitability and cashflow * Diversity of income streams across events and clients * Loyal and long-established client base * Well appointed sites at all events ensuring strong traffic volumes * Large number of high quality, well appointed mobile catering units enabling the business to service multiple events * Popular menu with excellent mix of hot and cold food capabilities * A well located and appointed warehouse site (available for lease) * 2014/15 financial year turnover was approximately $1 million For more information on the fleet, * visit autocaffe.com.au/ * email areed2@bigpond.net.au Asking price $600,000 Possibility of splitting as follows: Donut & Coffee vans with one refrigerated truck $300,000 - or - Two large food vans with one refrigerated truck $300,000
Region Melbourne, Victoria Price $500,000 - $750,000