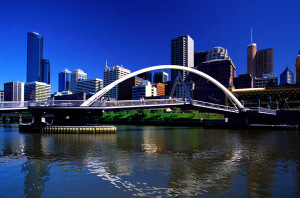 For more than a decade, Melbourne has experienced significant growth in population and employment, along with considerable investment it its industries by international entrepreneurs.
At the same time, extensive urban renewal has taken place in South Wharf, Southbank, Melbourne Docklands and Port Melbourne in response to the needs of Australians in the 21st century.
Doing business in Melbourne
Based on revenue and market capitalization, some of the largest corporations in the country have their headquarters in Melbourne, along with various think tanks and representative bodies that include the Australian Council of Trade Unions and the Business Council of Australia.
The country's largest and most active seaport, Port Melbourne, is located here, and it handles approximately $75 billion in commerce annually, along with 39% of the country's container trade. In addition, Melbourne Airport has long been a key entry point for both national and international business travellers and tourists.
Melbourne's key industries
Because the city is a major financial centre, the Australia and New Zealand Banking Group Limited (ANZ) and National Australia Bank (NAB) have their headquarters here.
Also, Melbourne has become the centre for 40% of the country's pension funds and 65% of various super funds, such as the Federal Government Future Fund, which is valued at $40 billion.
The country's automotive industry is dominant in the city, and it includes Toyota and Ford manufacturing plants, and GM Holden Ltd.'s engine manufacturing facility. All three companies also have their Australian headquarters here.
A major research facility located in Melbourne, the Australian Synchrotron, is a powerful tool that scientists from all over the world can use to perform various types of research. They include medical diagnosis, therapy molecular biology material science and environmental science, and the facility houses several laboratories and beam lines to assist researchers in their work.
Not surprisingly, the city is also a major technology centre, and more than 60,000 people are employed in the information and communication technology (ICT) industry. The industry's growth has resulted in $615 million in export revenues and a turnover close to $20 billion.
Tourism
The city is cosmopolitan, cultured and a favourite of avant-garde and up-to-date tourists. Melbourne's unique coffee culture, fine dining and sophistication are well-known, and the city's impressive music scene has been the launch pad for some of the country's most admired musicians and bands.
Visitors quickly discover that its residents are equally enthusiastic about sports, ballet, theatre and the latest fashions. The city is also the venue for a relentless program of business conferences, festivals, memorable musical presentations and outstanding art exhibitions.
Welcoming newcomers to the city
If you are searching for a business for sale in Melbourne, it may interest you to know that the Australian Federal Government Business Migration Scheme has assisted thousands of international investors including entrepreneurs from the UK and South Africa who wanted to do exactly that.
Their staff works effectively in collaboration with immigration agents both here and abroad to help these investors find suitable businesses in the city and the surrounding area.