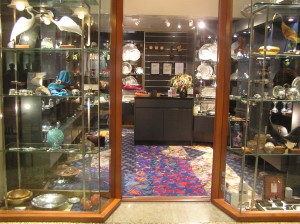 Brisbane's best-known, iconic gift shop is ready to change hands.
What is for Sale?
You are offered an opportunity to purchase this high-profile, successful business which after 23 years is still trading strongly and increasing sales.
What Products Do You Sell?
The business sells a range of unique Australian-designed gifts from famous artists, and enjoys a stable customer base ranging from individuals to international visitors to corporate clientele.
• Well established and prestigious CBD location with good foot traffic;
• Very strong, loyal customer base;
• Comprehensive financial reports showing consistent sales growth for several years;
• Current rent just over $5,100 per month;
• Turnover approximately $500,000 per year.
Also we have just finished developing our new web site which includes a shopping cart for easy purchases and transactions.
Other Attractive Incentives for the Business
• New lease can be negotiated with a very supportive centre management;
• Vendor very happy to provide guidance and assistance to new owner;
• Huge potential for further development and expansion;
• Sole trading rights to exclusive and unique products;
• The business is complete with fittings, stock, instructions and administrative details – walk in and start enjoying the pleasure of a fabulous lifestyle!
Business for Sale Report
Value of Business based on accountants estimation is $650,000.
The purchase price for the business is $395,000.00
The purchaser will receive:
• transfer of the business name – The Sheil Collection – transfer of Certificate of Registration(due July 17th) –anything bearing The Sheil Collection name becomes the property of the purchaser;
• Shop fittings and fixtures at Shop 13G Brisbane Arcade – $78,430.00;
• Carpet ($10,000.00) and air conditioning, kitchenette equipment(microwave, refrigerator, kettle), radio, grey leather chair, office chair, Desk setup (2 units of 3 drawers);
• stock in shop;
• Packaging stock – bags, boxes, tissue, ribbon;
• Printing stock – business cards, DLs (Don Sheil + The Sheil Collection) info sheets, invoice books, leaves.
The Sheil Collection administrative systems and procedure systems have been documented. Included in this is:
• How to run the shop;
• Lists of Artists – current, past, future – names and address;
• Artist Profile and information sheets;
• Product information sheets – material information sheets;
• Price Lists – R/R and W/S;
• Protocol Information;
• Advertising – who we advertise with.
Information on packaging
Where to order, what to order
Web Site and 2 Domain Addresses
1) The Sheil Collection.com
2) The Sheil Collection.com.au
Corporate Contacts
Mailing lists for both Corporate and Personal customers.
Intellectual Property
The name The Sheil Collection carries association with Shop 12, The Overflow and 91 Indooroopilly – all these businesses have offered firsts in Brisbane and standards that are still to be met.
Vendor advised to reduce work load but will work with new owners to ensure easy takeover.
Current Owner's Closing Comments
Ann Heathcote offers 40 years retailing experience in the Brisbane Gift Industry – for a transition period to be discussed, Ann will be available to advice, consult and consolidate ideas and functions relating to the Sheil Collection, as it is now or in an expansion area.
Want More Information?
Don't miss this opportunity! Visit our business for sale advertisement below to find out more information: